This year, you can regain control from OCD
4 min read
With the end of the year often comes a reevaluation of life, the choices we make, the paths we pursue, and all things related to our health and well-being. For those with OCD, it may mean letting go of the need for certainty, the need for control, and the feelings that are not serving your best interest.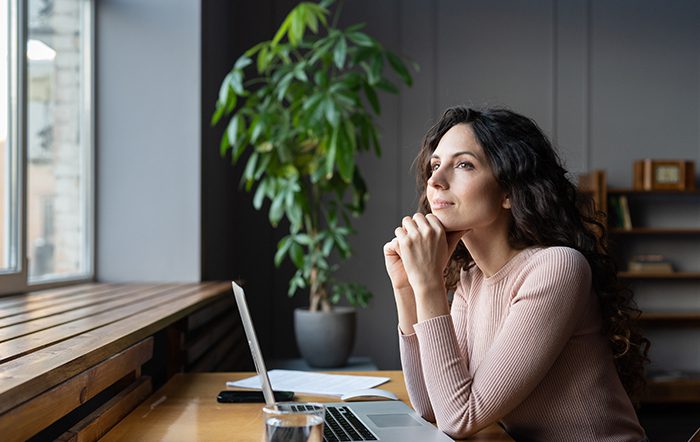 I know firsthand that it's easier said than done, but I also know that it's possible. You can live life on your own terms, rather than according to OCD's demands, and there's no better time than right now.
You can get "unstuck"
If this disorder has ravaged you and made you feel like you are "stuck" living with it in control of your life, know that you are not alone. Know that you are not weak or defective for having this illness. You didn't choose this. But here is the good news: you get to choose your response to it. Knowledge is power—once you are educated about how OCD works, you can learn the tools to combat it. 
This disorder needs your attention in order to survive and grow. OCD needs your participation in order to maintain its power. Like a bully, OCD requires your response to keep the harmful cycle going. When you directly, intentionally, and continually change how you respond, you take away OCD's power. 
What does OCD hate more than anything? Uncertainty. No matter what theme, thought, feeling, or urge, the root question is often How can I be sure? To regain control, one must be willing to accept this uncertainty. We are not accepting that our fears or obsessions are true, but rather that nothing we do or say can ever be certain enough to satisfy OCD. We can relearn our responses. We sit with anxiety and discomfort, as hard as it is, and allow doubt to be present, rather than arguing with it. 
Effective, specialized OCD therapy is here
Learn more
Most importantly, we strive to live our lives. We live based on our values and desires, independent of fear and doubt. They longer serve us, and eventually we can recognize that they never really did. OCD tried to convince us that we were not strong enough to handle the distress it caused, but it lied. We are strong enough.
Let this be a year of letting go. Letting go of the guilt and shame that OCD tried to instill. Letting go of compulsions that only provide short-term relief, loosening the tight grip of doubt and uncertainty, and embracing the unknown, the unexpected, and the uncertain. This is the year you can choose to let go of the power OCD holds. 
Take back your power
This year will be different. Not because of a special moment in time or a New Year's resolution, but because you choose something different. Make this the year that you no longer let OCD be in the driver's seat of your life, the year that you do something different and get different results. Will it be difficult? Yes. Will it be worth it? Absolutely. 
Let this year also be the year that you give yourself the same compassion that you give to others. The year that you choose yourself over the things that cause you pain and suffering. You can choose to let go of the time you lost to OCD. Forgive yourself for mistakes, poor choices, avoidance, and the things that held you back. 
You are not the same person you were when OCD began to whisper into your life. You are far more prepared to challenge OCD than you have ever been before. It will take practice, consistency, and perseverance. And it will still be easier than living every single day with OCD.
ERP can help you regain control of your life
Don't allow another year to pass without getting effective treatment for OCD. Reach out today, and make today the time for a change. Specialty-trained, qualified, licensed OCD specialists will never ask you to do things that go against your values or that will cause you or others harm, nor will they ever force you to do anything that you are unwilling to do. Instead, a successful ERP therapist will guide, support, and motivate you. They will come up with reasonable and creative ways for you to gradually face the fears that are holding you back from living the life that you want to live. 
Effective, specialized OCD therapy is here
Learn more
If you have any questions about starting ERP therapy or need more information about the treatment, please don't hesitate to book a free 15-minute call with our care team. On the call, we'll assist you in either getting started with a licensed therapist at NOCD who has specialty training in OCD and ERP, or connect you to other resources that might be helpful.
Stacy Quick LPC, is a therapist at NOCD, specializing in the treatment of OCD. She has been working in the mental health field for nearly 20 years. Her goal is to help members achieve skills to help them live a more fulfilling life without letting OCD be in control. Ms. Quick uses ERP and her lived experiences to help her members understand it is possible to live a life in recovery. She is a mother of 3 children, 2 of whom are also diagnosed with OCD. Ms. Quick is also a writer and content creator. Learn more about Stacy Quick on Instagram: @stacyquick.undone
Taylor Newendorp
Licensed Therapist, MA
I started as a therapist over 14 years ago, working in different mental health environments. Many people with OCD that weren't being treated for it crossed my path and weren't getting better. I decided that I wanted to help people with OCD, so I became an OCD therapist, and eventually, a clinical supervisor. I treated people using Exposure and Response Prevention (ERP) and saw people get better day in and day out. I continue to use ERP because nothing is more effective in treating OCD.
Madina Alam
Licensed Therapist, LCMHC
When I started treating OCD, I quickly realized how much this type of work means to me because I had to learn how to be okay with discomfort and uncertainty myself. I've been practicing as a licensed therapist since 2016. My graduate work is in mental health counseling, and I use Exposure and Response Prevention (ERP) therapy because it's the gold standard of OCD treatment.
Andrew Moeller
Licensed Therapy, LMHC
I've been a licensed counselor since 2013, having run my private practice with a steady influx of OCD cases for several years. Out of all the approaches to OCD treatment that I've used, I find Exposure and Response Prevention (ERP) therapy to be the most effective. ERP goes beyond other methods and tackles the problem head-on. By using ERP in our sessions, you can look forward to better days ahead.
Want to work with one of our therapists?
Schedule a free call to learn more.