As we've always said at nOCD, one of the most important elements of recovery from any struggle with mental health is having a community of people who can support you and ask for your support too. After all, a whole bunch of studies suggest that helping other people is a reliable way to boost your own mood– and your sense of purpose.
In our biggest effort yet to bring these principles to life, we're announcing the new Group feature in the nOCD app. It's a robust community of people asking questions, sharing their stories, and making helpful suggestions. And people are already telling us each day how useful it's been in their quest to feel better.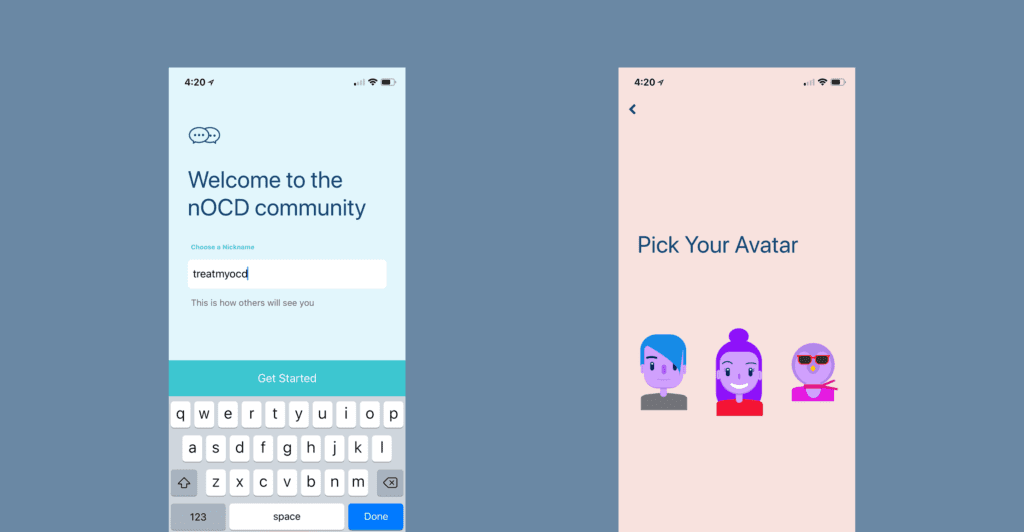 In these first screenshots, you can see the simple process you follow to get started: create a nickname of your choice, and select from a number of great characters to represent you. We've got all kinds of purple people, and a few animals too.
Although you'll find the usual mix of educational, inspirational, and entertaining content created by the nOCD team, the most important part of Group is all the stuff shared by people like you. Whether you have OCD, you have a friend or family member who deals with the condition, or you're an expert on mental health, the wisdom you bring to our community is what allows us to help each other.
Along with the social aspect of recovery, we all recognize that feeling better requires daily attention and persistent learning. That's why the community's constant, lively flow of questions, stories, and helpful information is another important part of our community members' journey toward recovery.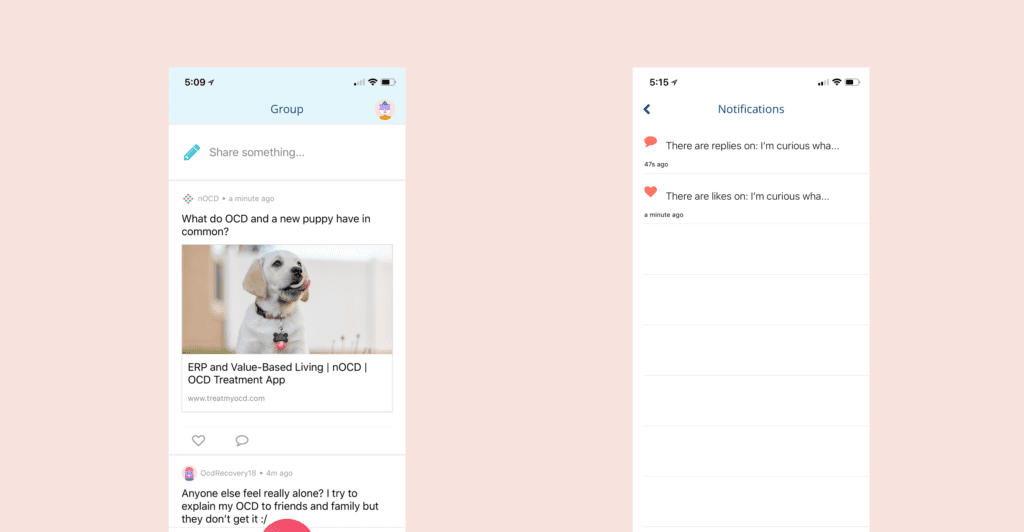 In the left screenshot above is the main Group feed. At the top is a place for you to share whatever is on your mind– or whatever you're struggling with. Below that is a blog post shared by nOCD, written by another one of our term members. Yes, it has a picture of a puppy. And it offers some very helpful thoughts about ERP, value-based living, and the ways metaphors can help us understand our own experience. We're always sharing new content like this, on the very same feed you'll be using to share things.
Below that is a sample user post, created by a nOCD team member. People can like these posts and leave replies. So far we've seen people sharing their experiences, replying with useful resources, and simply demonstrating that they're there for the person who posted.
In the other screenshot you'll find your notifications, which keep you in the loop about new interactions with posts you've created or commented on. The nOCD Group is all about sharing, and making back-and-forth discussion easier is central to our goals.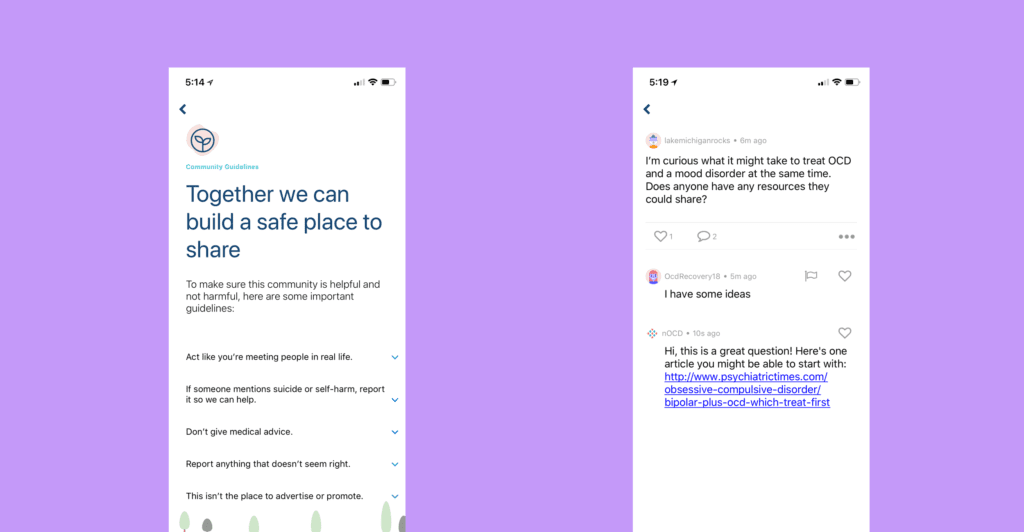 You'll notice that we also have a short list of important community guidelines that everyone agrees to. These are around just to make sure people are safe, nobody is getting attacked, and nothing of a harmful (or spammy) nature is getting posted. One of our team members is the main moderator in Group, and is keeping a close eye on things. You can check out the guidelines in the image above.
Once you've created your profile, chosen your avatar, and had a look around the feed, you're all ready to be an active member of our in-app community, which we've decided to call Group. It's a simple name that reflects the collective nature of recovery from OCD, and mental health in general. Nobody can do this alone, and we hope this new feature in the nOCD app helps make sure you don't have to. Group can be accessed at any time by tapping the Group icon in the navigation bar at the bottom of the screen. We'll see you there!
One quick note: if you have the nOCD app but you haven't updated it since early June, make sure to update so you'll have access to Group.