Experiencing taboo, disturbing, and embarrassing OCD fears can leave you feeling completely helpless. I know from my own experience with OCD: when I became a new mom, I was blindsided by disturbing intrusive thoughts about my baby, with sexual, harm, and religious themes. I felt like I couldn't trust myself. When I reached out to a talk therapist for help, all I got were embarrassing questions, reassurance that everything was normal, and referrals to others who didn't understand OCD.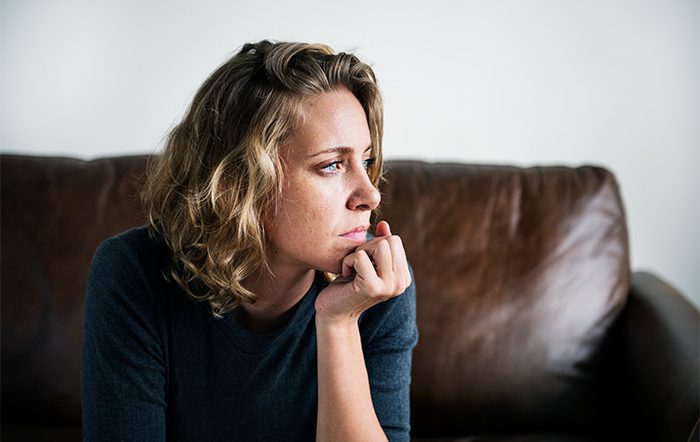 Since then, I've heard so many similar experiences from the people I've worked with in therapy. All too often, people find their thoughts too blasphemous, too shameful, or too disgusting to share publicly—even to share with close friends and family. It can be hard to find someone who truly understands what OCD is like, so even reaching out for help feels like a huge risk. It can lead to constant suffering and extreme loneliness. 
You may think your thoughts are so horrible that you're the only person who has ever had them, but they're much more common than you think. In fact, just about everyone has these thoughts, whether they have OCD or not. But OCD latches on to these thoughts and can make you think that you're a bad person, immoral, or a monster—even though none of that is true.
From both my personal experience with OCD and as a therapist who is specialty-trained to treat OCD, I want you to know that you don't have to suffer like this forever. You can put an end to the torture OCD causes and regain your life. Our team put together this step-by-step guide because I want everyone struggling with taboo thoughts to feel less alone, understand where they can go to get help, and know the steps they can take to begin conquering OCD. 
Here's what you can do, starting today:
Step 1: Find someone who truly understands OCD.
Since the nature of these intrusive thoughts can bring about a lot of shame, embarrassment, or guilt, it can be extremely difficult to open up about them. We get that. That's why to understand what you're going through, someone must truly understand what OCD really is and how the condition works. Even when you're ready to seek help, know that you don't have to disclose your thoughts right away. The most important thing you can do to kick off your recovery journey is to find someone who understands OCD and can help you. 
Studies suggest that many people struggling with OCD are misdiagnosed with other conditions, meaning it can be hard to get the help you need if your therapist doesn't recognize the signs and symptoms of OCD. Given the severity of OCD and the despair it can cause, it's critical to work with a therapist who has the proper training, experience, and licensure. 
The right therapist will be an OCD specialist who has specialty training in treating OCD with Exposure and Response Prevention (ERP) therapy. ERP is the gold standard treatment for OCD—with decades of clinical research proving its effectiveness—and it works for any theme of OCD, including those that are taboo or embarrassing to talk about. 
A therapist who meets these qualifications will not only deeply understand OCD and your specific fears, but also truly understand you and your experiences, and help you take the next step when you're ready.
Step 2: Get to know your therapist before sharing your thoughts.
If you're struggling with OCD themes that you find taboo, shameful, or embarrassing, I'll reiterate that you don't have to share everything right away. You and your therapist can move at a pace you're comfortable with, building trust and comfort as you go. What you share and what you don't is up to you.

Even if you're not ready to share your specific thoughts and fears, you can build a trusting relationship with your therapist as you begin treatment. Get to know them and better understand the process that you'll be undergoing. Eventually, as you gain a rapport, you will likely find yourself more willing to open up about things that are harder to talk about, allowing you and your therapist to work together and overcome them.
When you feel ready to take the next step, know that a therapist with specialty training in treating OCD with ERP will not judge you for your thoughts or symptoms. They will understand that having these obsessive thoughts is not indicative of your character, and has nothing to do with who you are as a person. It's also important to note that you should never feel pressured to keep working with a therapist who doesn't feel like the right fit for you or who rushes you to move at a pace you're uncomfortable with. 
Step 3: Open up in a safe space, only when you're ready.
By doing safe and confidential therapy with a licensed OCD specialist, you can find lasting relief from your suffering. Doing therapy sessions in a space that feels comfortable and familiar can be helpful, especially when you are experiencing shameful thoughts. That's why many people often find virtual therapy more beneficial: when they're not in an unfamiliar office setting, people find it easier to share what they're going through and can begin to tackle the symptoms and fears that are impacting them the most. This is the stage where true recovery begins.  
There are other benefits to virtual therapy, too: recent research has shown it may be more effective than in-person treatment for OCD.
How NOCD Therapy can help
If you're suffering from OCD and feel like there's no way to open up to others about your thoughts or fears, know that you're not alone, and we are here to help. NOCD Therapy was designed specifically to help people with OCD find lasting relief, and many of us at NOCD have the condition ourselves, so we understand first-hand what it's like.
All NOCD Therapists are specialty-trained in treating OCD with ERP, understand that your thoughts and fears do not reflect who you are, and have heard taboo or disturbing thoughts from therapy members before. Treatment can be done from anywhere in fully confidential, face-to-face video sessions. 
Your therapist will build a customized treatment plan so you can work together at the pace that is best for you. Your exposures will be manageable but challenging to help you begin to reduce or resist your rituals and gradually confront your fears in a safe way. You won't be put into danger or be asked to do anything you can't do. Additionally, if your therapist isn't the right fit for you, know that NOCD Therapy members can transfer therapists at any point in their therapy journey to find a better match.
We also know that living with OCD is most challenging when you're on your own between therapy sessions. That's why NOCD Therapy members also have access to always-on support through direct messaging with their therapist, free therapy tools, peer communities, dozens of support groups with people who have similar experiences, and more. Having this support can help you handle harder days, and connecting with other people who have the same thoughts as you can make you feel less isolated and shameful.
You can book a free 15-minute call with our care team to learn more about working with a licensed therapist at NOCD. Or, if you'd like to be connected to other resources instead, please reach out to our team at info@nocdhelp.com for more information that can be helpful. Whether you seek care from NOCD Therapy or find another avenue, we want to make sure you have the tools you need to conquer OCD.