This is a guest article from Elise Petronzio, OCD advocate and founder of the ocdopus, an online shop specifically for people with OCD and related conditions.
It's amazing to see all the conversations and opportunities present for children with OCD in 2023. They can meet other kids with OCD at OCD Kids Camp or the OCD Conference, run by the IOCDF. Many kids can get specialized treatment covered by insurance or affordable payment plans through NOCD.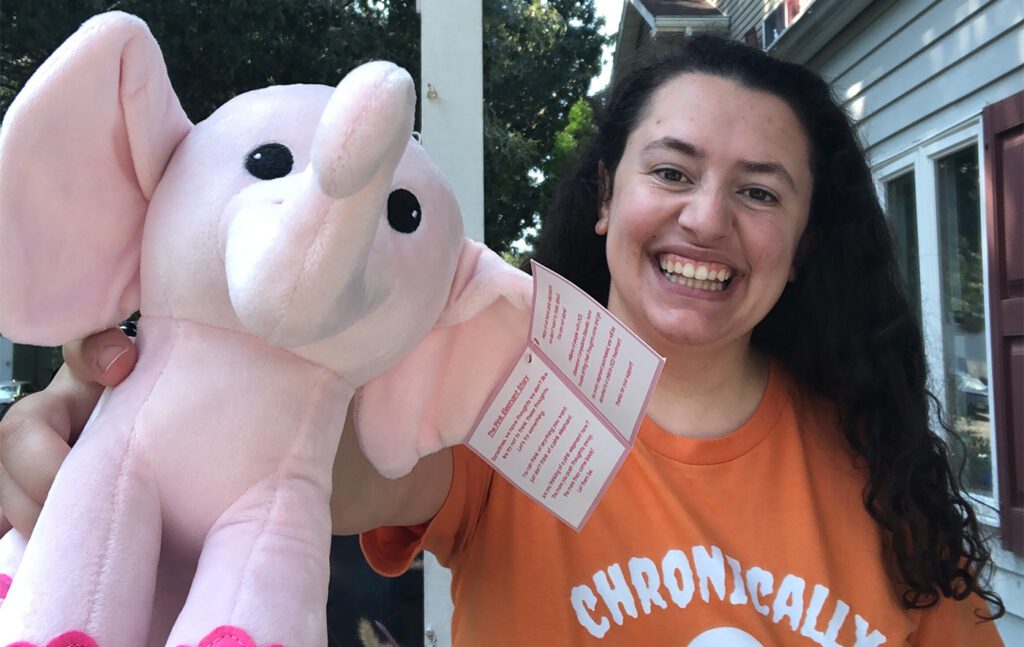 When I was a kid with OCD in 2006, I didn't even know it. Nobody around me knew it. And I didn't know anybody else with it, either. It would stay that way for 10 years. While I did not have an OCD specialist or diagnosis, I was lucky enough to have a therapist who taught me the pink elephant example when I was a kid. It changed my life.
In Exposure and Response Prevention (ERP) therapy, the pink elephant is used to demonstrate how obsessions work. The therapist will tell the therapy member to try not to think about a pink elephant. Without a doubt, they instantly think of a pink elephant. This goes to show you that when you try not to think about something, your brain can't help but think about it! 
Effective, specialized OCD therapy is here
Learn more
I didn't understand a lot about what my brain was doing when I first developed OCD. However, I did understand that example, and I never forgot it. It was a simple way to explain that if I tried not to think about the thoughts I didn't like, it would keep them in my mind. And this was pivotal in helping me recover and deal with flares as they came up. 
As I got older and started to learn more about mental health stigma, I noticed more and more differences between how society treated physical illnesses and mental illnesses. One thing that I had seen a lot of for children's physical illnesses, like cancer, was charitable stuffed animals. GUND and Kohl's are just two companies that have sold such items for a while, and I've always admired them. I realized that for as many charitable stuffed animals I had seen in my lifetime, I had NEVER seen one dedicated to mental illness, let alone OCD specifically. I decided to change that.
I opened the ocdopus, an OCD advocacy and recovery shop, to make this dream a reality. I wanted to remind people what they're working towards in OCD treatment. What better way to do that than to create a physical version of that pink elephant? 
To this day, for each stuffed pink elephant that we sell, one is donated to a child in OCD residential treatment. We have already supplied two of the biggest OCD child & adolescent residential programs in the country with enough elephants for two years. The existence of a stuffed animal dedicated to OCD has a lot of meaning to me. It would have been comforting when I was a kid, terrified of my own brain and feeling alone in it. It helps us remember what we are trying to embrace in OCD treatment, no matter what your age.
Now, I know our stuffed pink elephants make a difference in the lives of others; someone who received one while in treatment reflected on it and sent me this message: "I just wanted to say thank you for all you do. I was at [an OCD treatment facility] when I was gifted my elephant, and it saved my life to have some sort of comfort there. I love it with all my heart and soul. Thank you for being the reason I still have it."
It says to the world that we, the OCD community, are HERE. And we're not going anywhere.  
There are brave kids all over the world fighting OCD, and they are not alone. 
Elephants can be purchased at www.theocdopus.com.