I have always been very anxious. I come from a high-strung home where there were a lot of expectations and rules. It wasn't until I went away to college that I realized that other people didn't live the way I do. Without this anxiety running in the background, I saw that people could just live their lives seamlessly. That was a revelation to me. 
I can't remember a time before OCD.  When I think back, I can clearly identify obsessions and compulsions. For example, I always fixated on being the first one asleep in our house. I couldn't stand to be awake after my family members, and I did all these behaviors to make sure that didn't happen. 
School was always a challenge. I would always plan what would happen later that day or tomorrow and had a really hard time being present. I felt as though I wasn't living, but rather going through the motions of living.  
My changing OCD Subtypes
I went through a lot of subtypes over the years. Moral scrupulosity OCD was a big one. Moral scrupulosity is an obsession with whether you are acting in a way that is good or bad. 
In my case, I had to walk a certain way, close a drawer a certain way. Did those behaviors have anything to so with whether I was a good person or not? No! I later learned that latching on to seemingly random things is what OCD does. 
Existential OCD was a major subtype when I was little and learning about the idea of God. Existential OCD involves thoughts about questions that have no answer. Having deep thoughts about the universe and one's place in it sounds like a good thing but not when you can't escape it. It weighed heavily on me. I never was able to just hear something and then forget about it. Things stuck with me.
I didn't discuss my obsessions and compulsions with my family because they all behaved similarly to me.  When I was finally diagnosed a couple of years ago, I spoke to them about it. They were surprised that how our entire family lived their lives was a serious mental disorder because, for them, it was normal. Admittedly, their OCD didn't impact their lives to quite the same extent that it did mine, so they just integrated their OCD into their day-to-day life. 
When I was in college, I went to the school counselor. They responded that I had stress and college anxiety. I had a couple of talk therapy sessions and talked about what I was experiencing, but that approach didn't help at all. 
Finally, a Diagnosis
My OCD diagnosis didn't come until I was 27. I'd been looking for answers online and got connected with some other people experiencing similar things. Their general opinion was that this seemed different from anxiety and sounded a lot like OCD, which I knew very little about. I learned about the different subtypes and thought: "Well, this sounds familiar." 
I saw a therapist in person who diagnosed me with OCD. He was not an OCD specialist and only had limited knowledge of the gold-standard treatment for it: exposure and response prevention therapy, or ERP. I realize now that the ERP therapy I received wasn't very structured or specific to what I was experiencing. As a result, it wasn't all that effective.   
Then the pandemic happened. Several people I'd been speaking with online and received treatment with therapists who were properly trained in delivering ERP with NOCD. What's more, NOCD offered this specialized OCD treatment online via Zoom.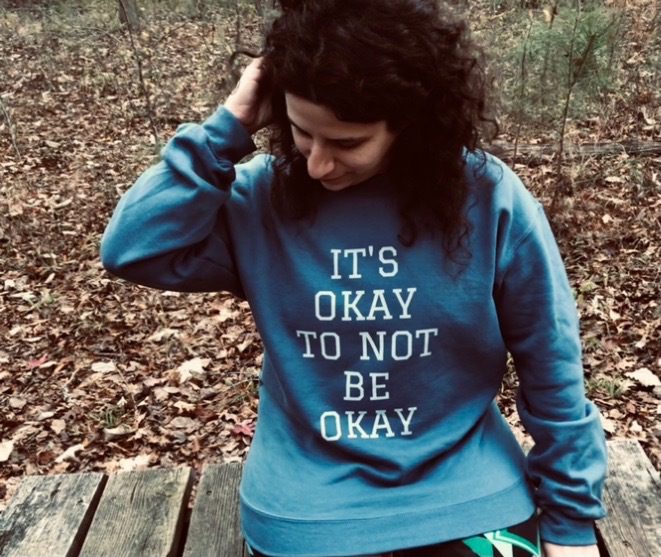 At the time, I was a special education teacher. Due to COVID, I was teaching from home and was alone so much. My husband was working long nights, and I was just always home. Up to that point, I think I had used other things to distract me. Being constantly stuck at home meant being constantly stuck in my head, spurred me into action.
I reached out to NOCD. I was full of shame at the time, but the person I spoke with was so understanding that I felt very comfortable being paired with one of their OCD specialists.  
I had my first session the following week, and I found that I had a great connection with my therapist. The work was challenging but effective.
I don't even know if relief is the right word, but I just felt at ease. It was something I hadn't experienced before. Knowing that there's an effective treatment for what I was struggling with and a whole community of people who get it was a huge deal for me. From the very first session, I began to notice that I was able to let little things slide. It's like I suddenly had some control of the OCD dial.  As I continued,that level of control grew and grew and, after two and a half months, the issues that had touched every part of my life for nearly two and a half decades had become manageable. 
An Opportunity to Help People Like me 
I suddenly had a support system at my fingertips and a lot of tools in my toolkit that I could use when and if things got hard again. The experience was so profound that I knew that I wanted to help people find help that can be nothing short of transformative. 
A few months later, I saw that NOCD was hiring. I'd already left my teaching job due to the pandemic and was working at a clinic for kids with autism. Even though I was already working full time—and loved my job at the clinic—it seemed silly to pass up an opportunity to at least interview with the company that had transformed my life in short order. 
The interview went well, and I was asked if I could start the following week. I told them that I already had a full-time job, so I took part-time work at NOCD. I got so much satisfaction from helping people get on a path to recovery from OCD that I went full time after a few months. 
I am one of NOCD's Member Advocates. Member Advocates are pillars of support. We've experienced OCD and experienced the path to recovery. We are by your side as you begin treatment. We're here to answer your questions. We want to help, and we want you to get your life back from OCD. 
I think my role as a teacher has been really helpful in my career as a Member Advocate at NOCD. I talk with a lot of children and teens because of that experience. Also, I know what it's like to suffer and not have somebody to talk to. I love being that person, being able to connect with them, to tell them, "Hey, you're not alone. There are people out there who think like this, who have these thoughts." 
Typically, Member Advocates help people at the start of their journey to recovery, but often people reach out later to say that they are doing so much better, which is incredibly gratifying. The teens that have been helped by NOCD often ask me how they can become a Member Advocate. That's amazing because it means that they see a future; they have hope.