As a parent or caregiver, your child's well-being can be the most important thing in the world. Discovering that your child is experiencing PANDAS/PANS can be excruciating and overwhelming, and you may be unsure of what steps to take.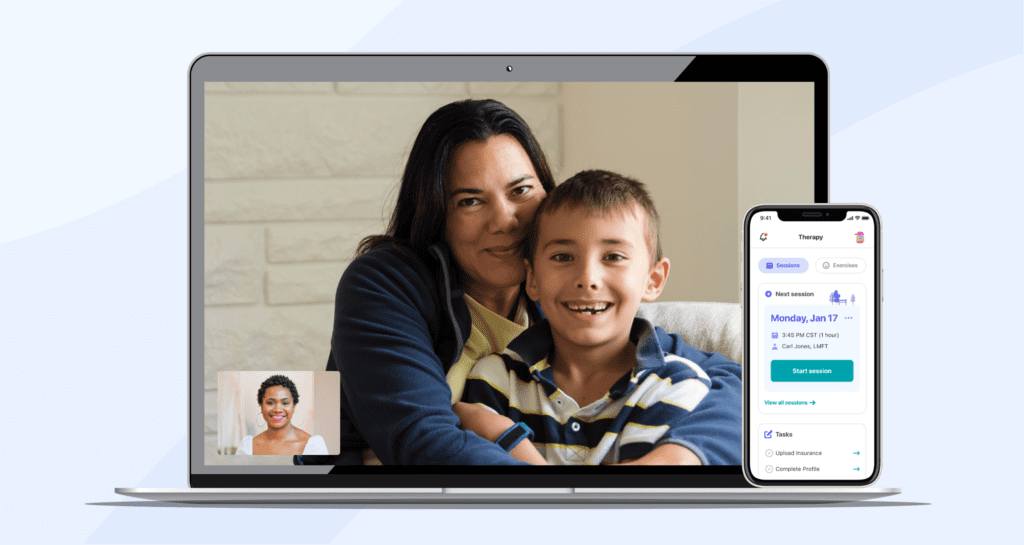 Positive change begins with a proper diagnosis and the right treatment, and that may require a combination of medical, psychiatric, and behavioral interventions. Due to the brain inflammation associated with PANDAS/PANS, children typically may experience a sudden onset of severe obsessions, compulsions, or both. That's why, on your child's path to recovery, treating OCD is an incredibly important step. For children with PANDAS/PANS who are also experiencing severe OCD, exposure and response prevention (ERP) therapy can help them effectively manage their OCD symptoms. ERP is the evidence-based, gold-standard treatment for OCD.
If you are finding that the experience of identifying OCD and navigating treatment may be difficult or even frightening at first, please know that is very common and understandable. However, learning about the language of OCD and being able to discuss what the condition is can help both the parent and the child. It can help start to restore hope for the entire family unit. And since OCD itself is a very treatable condition, ERP can help children significantly reduce their suffering.
It has historically been hard to find a specialist who is trained to effectively treat OCD—especially for children and adolescents. That's why NOCD is partnering with the PANDAS Network: our large network of licensed OCD specialists gives the PANS/PANDAS community in all 50 states in the US and many countries outside the US access to a critical part of a child's treatment plan. 
Inside the NOCD virtual therapy platform, children with PANDAS/PANS can do live face-to-face sessions with a therapist who has received specialty training in treating OCD. Between therapy sessions, children and their families can participate in NOCD's peer community, attend online support groups, utilize self-help tools, chat with Member Advocates—people with OCD who have done therapy with NOCD—and message their therapist directly, all within the NOCD platform, and included at no extra cost. As their child goes through therapy, parents can also have the opportunity to do virtual sessions with a NOCD Therapist to learn about how they can help their child achieve their recovery goals. These sessions are specifically for parents, caregivers, families, and loves ones, and they are priced at our standard per-session rate. This approach aims to improve OCD symptoms, while also benefiting the overall quality of life of the child, family, and the people who support them. 
The entire experience is completely virtual, meaning children and adolescents can work with their therapist directly from the comfort of their homes, or even work in other locations where OCD triggers them most. NOCD's virtual ERP therapy model helps make ERP more powerful and better fits a condition like OCD, and it's proven to make people significantly better in 50% less time than standard outpatient ERP therapy. 
Some children with PANDAS/PANS may also be experiencing restrictive eating issues, ARFID, or eating disorders. These conditions can be a part of several different issues and concerns, and those that are related to OCD are ones in which NOCD could play a role. Special accommodations can be made for these requests as well.
We maintain excellent clinical outcomes through rigorous oversight and management from our clinical leadership team, comprised of top OCD experts and researchers with decades of experience and expertise. In fact, NOCD's clinical leadership team trains and supervises each licensed therapist in the NOCD Network to ensure our members receive the best care.
As it's our mission to make effective OCD treatment accessible, affordable, and convenient, NOCD offers insurance coverage for most people with commercial insurance. Our therapists accept many major insurance plans, including UnitedHealthcare, Cigna, Aetna, Humana, many Blue Cross Blue Shield plans, and more. Many of them also have the availability to begin working with new children, teens, and young adults within 7-14 days or less on average.
Prior to NOCD, there were major gaps in the OCD treatment journey, leaving countless people with OCD suffering in silence. ERP therapists had months-long or even years-long waitlists and charged over $300 per 60-minute session. We made it our mission to change this to help more children and adults whose lives are consumed with OCD symptoms. 
To help expand options for families, we're making treatment as affordable as possible. For those in the PANDAS/PANS community who are not using insurance, many NOCD Therapists are offering at a reduced rate of $100 per 60-min session for your child's first two months of treatment, through the end of May. To receive this reduced rate, simply schedule a free call with the NOCD Care Team, and let them know that you are part of the PANDAS Network. 

It's our hope to help the children and their families who are affected by PANDAS/PANS by providing them with the proper care, support, and treatment for OCD. To learn more about getting your child matched with a licensed therapist who's specifically trained to treat children, teens, and young adults with OCD, please schedule a free 15-minute call with our care team. We're here to help in any way we can.