With June upon us, we are celebrating Pride Month to honor the LGBTQIA+ community. It's a time when members of the LGBTQIA+ community can come together to recognize their experiences and provide support to one another, and when everyone can join to advocate for their freedom to be themselves.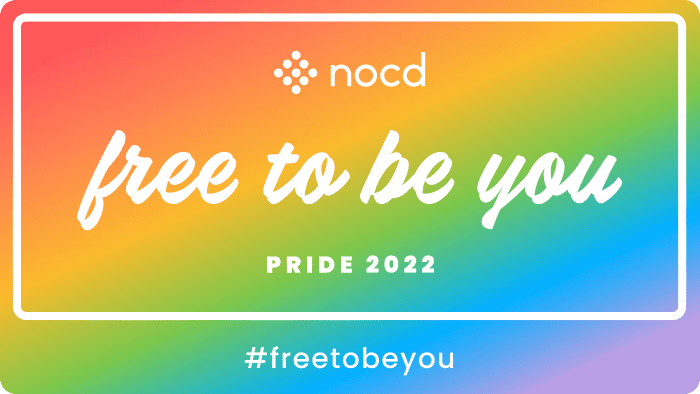 Though progress has been made over the past two decades in advocating for equal rights and opportunities, LGBTQIA+ people everywhere continue to be met with stigma, discrimination, and bias. This has perpetuated disparities and harm in many facets of everyday life, including access to mental healthcare.
At NOCD, we are committed to fostering equity, diversity, and an inclusive environment for the LGBTQIA+ community, and to breaking down these barriers to care. Whether you are a NOCD member, employee, or therapist, our goal is to create a culture where everyone can feel seen, heard, respected, and safe—while honoring and promoting equal rights for all.
This year, we are celebrating Pride Month with our Free to Be You campaign: We're highlighting that NOCD is a place where members of the LGBTQIA+ community can show up each day as their authentic selves. That means that NOCD is a place where all our LGBTQIA+ team members' whole selves are not only accepted, but celebrated, and where our therapists offer inclusive, affirming care and provide safe and welcoming spaces for our therapy members in the LGBTQIA+ community. 
All month long, we are sharing with the world that NOCD is a place where you can be free to be yourself. We'll be showcasing members of the NOCD team sharing what Pride Month means to them, ​​and our therapists will share how they work with the LGBTQIA+ community to ensure an understanding, affirming, and inclusive environment. 
Check out YouTube and follow us on Instagram, Twitter, Facebook, and TikTok to keep up with these messages and learn more about how NOCD is committed to being an accepting and affirming behavioral healthcare provider. We look forward to having you join us as we celebrate the impact and contributions of the LGBTQIA+ community this Pride Month. 
Above all else, please know that our team at NOCD is always here for you. If you're a member of the LGBTQIA+ community and find that stigma, hate, or discrimination is negatively affecting your mental health, let us know how we can help. Please don't hesitate to reach out to us at any time at info@nocdhelp.com. 
Pride is also a good time to seek out support resources, should you need them—here are some that may be valuable: